Digital literacy is a vague term, and as I mentioned in my previous post, I knew I would need a more robust definition upon which to build. After a lot of searching the web (and learning some new search skills along the way), I found just what I was looking for: the Program for International Assessment of Adult Competencies (PIAAC). This assessment program is run by the Organization of Economic Cooperation and Development (OECD), and has been adopted globally as a way to measure Literacy, Numeracy, and Problem Solving in a Technology Rich Environment. The PIAAC is a very robust and thoroughly documented framework that will readily support a meaningful program to improve adults' digital literacy skills. (If you want to know more about the PIAAC, click here.)
Problem solving in a technology rich environment (PS-TRE)–what does it really mean? Per the OECD, PS-TRE is  using digital technology, communication tools and networks to acquire and evaluate information, communicate with others and perform practical tasks. The first PIAAC survey measures adults' abilities to solve problems for personal, work and civic purposes by setting up appropriate goals and plans, and accessing and making use of information through computers and computer networks. (Source: OECD Skills Assessment Paper, pg. 49)
Every time you check your smart phone you are using digital technology, communication tools, and networks to acquire and evaluate information, communicate with others and perform practical tasks. Ditto when you use Google (or another search engine)  to find a new car mechanic, or when you use Quicken to balance your check book, or Orbitz to book a trip. Because the definition does apply so well to so many day-to-day activities, I chose it to be my working definition of Digital Literacy.
So how does the US score on the PS-TRE? Not well. Our best scores are in the high Level 2, which is considered low skill.  And it gets worse as we get older. As you might expect, people who are 24 or under score the highest. But, by the time we reach 55, our score has gone down by 20 points!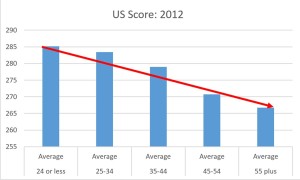 Our economy is very good at identifying these skill sets and compensating for them. That means that if you are a high skilled individual (you score between 400 and 500 on the PS-TRE), you are highly compensated and don't need to worry about unemployment–in other words, you are a 'have'.  This graph helps explain the increasing income gap between our 'haves' and our 'have nots', and I haven't shown the scores broken down by race/ethnicity and/or education! Of course, the income gap is a very complex question, and this skills gap is but one small piece of it. However, the skills gap is something we can address at the grass roots level. As the OECD says "skills are everyone's business". This digital literacy initiative is designed to measure and improve these skills in one community  and this metalogue is a written 'documentary' of that effort.